Table of Contents
Non-Traditional Traditional
---
Non-Traditional Holiday Films
Only a few of these films are really holiday films, but they all are set during the holiday season and would be quite different films without that backdrop. They are divided into categories of Science Fiction, Thrillers/Action, and Comedies, Light and Dark.
---
Science Fiction & Fantasy
Perfect for getting into the imaginativeness of the season or its dystopian aspects.
12 Monkeys (1996)
The other Bruce Willis Christmas movie. Before the world as we know it comes to an end, we hear this cheery message: "The Freedom for Animals Association on Second Avenue is the secret headquarters of the Army of the Twelve Monkeys. They're the ones who are gonna do it. I can't do anything more now. I have to go. Have a Merry Christmas."
Bell, Book and Candle (1958)
Another Jimmy Stewart holiday classic. This tale of a modern witch takes place during the Christmas season, not Halloween.
Brazil (1985)
Terry Gilliam's black comedy is set in a dystopian retro-future disturbingly filled with Christmas greed and commercialism.
Cité des Enfants Perdus = The City of Lost Children (1995)
This dystopian fantasy full of curious, comedic characters opens on Christmas Eve and slips in creepy Santa Claus imagery throughout the film.
Edward Scissorhands (1990)
Begins and ends at Yuletide, and the Christmassy ice sculpture scene has been called the most magical moment found in any Tim Burton film.
Fantastic Beasts and Where to Find Them (2016)
The action takes place in December of 1926. One of the most comic scenes takes place in a department store all decorated for Christmas shopping.
Gremlins (1984)
What happens when you buy an unusual Christmas present and your family isn't careful?
Krampus (2015)
"You better watch out!" From a scary old German tradition.
---

Thrillers | Action Films
Die Hard is listed first because it is the one action film that really does get into the holiday spirit. The rest are in alphabetical order.
Die Hard and Die Hard II (1988, 1990)
The original film is set in an office building taken over by terrorists and comes to an oddly sweet and sentimental ending. The first sequel is set on a snowy Christmas Eve at Washington Dulles International Airport.
American Psycho (2000)
Celebrate Christmas with a gala party, champagne, reindeer antlers, a kiss under the mistletoe, cocaine, and an axe-murder.
Catch Me if You Can (2002)
Not only is the opening scene set on Christmas Eve, but Christmas returns at several other key points. I don't think there is supposed to be any particular connection between the holiday and deception.
El Día de la Bestial = The Day of the Beast (1996)
In this blackest of comedies, a priest, convinced that the Antichrist will be born in Madrid on Christmas Day, goes on a rampage of sin to sell his soul just so he can stop the monster.
Enemy of the State (1998)
The all-surrounding, all-intrusive nature of electronic surveillance by the government on its citizens is unwittingly uncovered by an innocent Christmas shopper (Will Smith).
Eyes Wide Shut (1999)
Have yourself a merry little orgy.
Frozen River (2008)
It's almost Christmas, and near a border crossing on the Mohawk reservation between New York State and Quebec, two single mothers bond through smuggling.
The Hebrew Hammer (2003)
In this spoof, an Orthodox super tough guy goes on a mission to save Hanukkah. (Only included in this list beacuse of the paucity of good Hanukkah films.)
8 Femmes = 8 women (2003)
A French mystery: who murdered the wealthy industrialist during a holiday gathering? I hope it's not Catherine Deneuve's character.
Ice Harvest (2005)
Christmas Eve in Wichita, Kansas, is the setting for film noir with a slight touch of comedy.
In Bruges (2008)
Hit men lying low in Bruges in Belgium during the holiday season have a love/hate relationship with the city. One loves it; one hates it. Warning: the first half is much more of a light-hearted holiday film than the darker second half.
Kiss, Kiss, Bang, Bang (2005)
Film noir spoof, and if a father robbing a store to get his kid a special toy doesn't get you into the Christmas spirit, what can?
L.A. Confidential (1997)
Much of the plot is centered on the Bloody Christmas scandal. One Christmas scene includes the yanking of a plastic Santa and his reindeer off a roof.
Rare Exports (2010)
A Finnish horror story that is both creepy and full of dry humor. It involves an archaeological dig and Santa Claus.
Rocky and Rocky IV (1976, 1985)
In Rocky, the story takes place from Thanksgiving, when Rocky is "a bum", to New Year's Day, when the championship match occurs. In Rocky IV the big fight occurs on Christmas Day.
Run All Night (2015)
The action takes place on a snowless Christmas Eve, and one grim scene involves a drunken Santa at a Christmas party. With Liam Neeson.
Stalag 17 (1953)
This World World II prisoner of war camp whodunnit is set from "about a week before Christmas in '44" to "after dark on Christmas Day."
The Thin Man (1934)
This classic murder mystery/comedy was set during the holidays. Pity the poor Christmas tree in Nick and Nora's posh New York apartment.
The Unholy Three (1925)
A silent film about sideshow performers who turn to crime and commit a heist on Christmas Eve.
---

Comedies, Light and Dark
Set during the winter holidays, these films don't quite fit the traditional holiday film category, are not all jolly, but are fun.
The Apartment (1960)
The Best Picture of 1960 was a dark comedy-drama of corporate intrigue and womanizing set in winter and culminating at a troubling office Christmas party and a depressing (hopeful?) New Year's Eve.
Bridget Jones's Diary (2001)
It begins and ends at Christmastide with scenes that are oddly charming and delightful, although Bridget does tell carolers to bugger off.
Captain Newman, MD  (1964)
In psycho ward in a World War II military hospital, a key subplot is the removal of the top five feet of the commanding officer's huge Christmas tree.
Home Alone (1990)
Once was cute; more than that is getting a bit sadistic.
Hudsucker Proxy (1994)
As it mocks corporate intrigue, it oozes in holiday sentiment. With Paul Newman and Tim Robbins.
Last Holiday (2006)
After learning that she has about three weeks to live, a store clerk (Queen Latifah) decides to live life to the fullest at a grand hotel in Europe. The holiday season happens to include Christmas, but you hardly notice.
Millions (2004)
When British brothers (aged 8 and 14) find a bag of money, how they react helps us explore the meaning of Christmas. Comes with a school nativity play with a minor miracle.
Mixed Nuts (1994)
Christmas Eve at a crisis hot line, but its a screwball comedy. If you think Steve Martin colliding with rollerbladers carrying a Christmas tree is your kind of fun, check it out. 
National Lampoon's Christmas Vacation (1989)
Disasters happen.
Silver Linings Playbook (2012)
Only one real Christmas scene, but in time-line and in spirit, the film revolves around the festive season. Jennifer Lawrence finally plays an adult.
The Sure Thing (1985)
A road trip over winter break from Ithaca University includes a Tahitian-themed Christmas party. Starring John Cusask when he was young.
For Traditionalists
What makes a film a traditional holiday movie? There are those films that coat themselves with the trappings of the season with cloying sentimentality. Others explore the meaning of the holidays, instead of exploiting the sentiment. A few are just a lot of fun.

This Century
About a Boy (2006)
Hugh Grant's cynical character has a Scrooge-like change of heart over the course of two Christmases.
Elf (2003)
Enjoyable (I've been told) in a grating sort of way.
The Holiday (2007)
House-swapping and romance during the holidays, and even one Hanukkah scene.
How About You (2007)
A "feel-good" Irish film about a young caregiver put in charge of a nursing home during Christmas and four grumpy old residents.
Joyeux Noël (2006)
Christmas in the trenches of WWI, based on a heart-warming true story.
Love Actually (2003)
Now in its second decade, no longer non-traditional, but a classic.
Lovely, Still (2008)
A whimsical romantic tale set at Christmas time. Perhaps because the target audience was old geezers (it stars Martin Landau and Ellen Burston), it never developed a cult following.
The Man Who Invented Cbristmas (2017)
A fantasized biography of Charles Dickens during the period he wrote The Christmas Carol – he had help from Scrooge.
​The Santa Clause (2002)
I've been told you needn't watch the sequels.
Serendipity (2001)
Begins and ends with Christmas shopping in a New York City department store. Helped launch Kate Beckinsale's career.
Unaccompanied Minors (2006)
Based on a This American Life segment about kids trapped in an airport on Christmas Eve.
1980s and 1990s
Jean Shepherd's A Christmas Story (1983)
More droll than sappy, but still charming.
Jingle All the Way (1996)
Arnold Schwarzenegger is no tough guy when it comes to holiday shopping.
The Preacher's Wife (1996)
Remake of The Bishop's Wife (see below) with Whitney Houston in the title role.
Sleepless in Seattle (1993)
Centered around two holidays, Christmas at the beginning and Valentine's Day at the end.
Trading Places (1983)
​A comic morality play set in wintry Philadelphia.
While You Were Sleeping (1995)
During a snowy Christmas season in Chicago, a hopeless romantic is mistaken for the fiancée of a coma patient, but romance is not hopeless.
You've Got Mail (1998)
An update of Shop around the Corner [see below].
---
The Missing Years
The Sixties, Seventies, and Early Eighties were the decades that produced dozens of TV holiday cartoon and Hallmark-type Christmas specials, but they were surprisingly devoid of holiday-themed theater releases.
---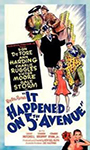 For Ardent Traditionalists (Pre-1960 films)
Some fanatics insist that the best holiday movies were produced before 1960. Some even prefer them in black and white. No time period has ever produced as many films in the quantity, variety, or quality. They are listed here in chronological order.
Détresses et charité = The Christmas angel (1904)
Georges Méliès's tale of a beggar girl who collapses in the snow. Whether or not it has a happy ending depends on the language version you watch.
Remember the Night (1940)
A shoplifter and a D.A. and Christmas good will.
​Shop Around the Corner (1940)
As Christmas approaches, pen pals plan to meet in person. Bickering co-workers are in for a surprise.
Meet John Doe (1941)
Fake news about an unemployed "John Doe" threatening suicide on Christmas Eve sets up this comedy/drama.
Holiday Inn (1942)
The film where the song "White Christmas" first appeared, and there are Thanksgiving and New Year's scenes, as well.
Going My Way (1944)
Perhaps the sappiest and most sentimental of them all. Ends on Christmas Eve.
Christmas in Connecticut (1945)
Dishonesty and pretense has to be vanquished before this screwball Christmas tale can have a happy ending.
It's a Wonderful Life (1946)
Too grim for its time; now the No. 1 favorite Christmas film.
Bishop's Wife (1947)
An interfering angel is as suave and charming as Cary Grant.
It Happened on 5th Avenue (1947)
Sappy, sentimental fare as lower class meet disguised upper class in a "vacant" mansion.
Miracle on 34th Street (1947)
I do believe in Santa.
Three Godfathers (1948)
With John Wayne in a Christmas tale disguised as a Western.
O. Henry's Full House (1952)
Three of the five stories are based on Christmas classics.
White Christmas (1954)
Sappy and sentimental and in color.
We're No Angels (1955)
Three escaped convicts encounter a beleaguered shopkeeper's family at Christmastide. One of the few comedies Humphrey Bogart appeared in.
---
A Christmas Carol
There have been enough variations on A Christmas Carol that they get their own box.
A Christmas Carol (1938)
With Reginald Owen as Scrooge, in what some say is the most authentic representation of Dickensian England.
A Christmas Carol (1951)
With Alistair Sim as Scrooge, in what some say set the standard for film adaptations of this classic.
Scrooge (1970)
With Albert Finney as Scrooge, in a musical version of the story.
Scrooged (1988)
With Bill Murray as Frank Cross, a modernized Scrooge.
A Muppet Christmas Carol (2005)
With Michael Caine playing it straight as Scrooge amid songs and laughter.
---
Home for the Holidays
Separated out because of the special theme connected to the winter holiday season. These films explore returns and reunions – buddies hanging together during the winter break, dysfunctional families coping with each other, and a bit of romance.
Almost Christmas (2017)
A dying patriarch (Danny Glover) asks his family for only one gift: to get along.
Carol (2015)
This romance/domestic-drama with noir overtones set in the early 1950s begins with Christmas shopping, and much of the film stays in the season.
Conte de Noël = A Christmas Tale (2008)
A film by a post-New Wave director presents a stylized holiday fable about alienation and reunion that runs the gamut from bittersweet hilarity to heartbreaking. affectation.
C.R.A.Z.Y. (2005)
A young gay Québécois comes of age dealing with his conservative father and family. Much of the story is told in Christmas scenes.
Diner (1982)
Post-high-school buddies reunite and bond between Christmas and New Year's Eve. In one memorable scene a church's life-size nativity display is demolished.
Everybody's Fine (2009)
Feeling rejected, a widower decides to go on a road trip to visit each of his kids. The last scene brings all the family together at Christmas.
The Family Stone (2005)
It's fiancée versus future in-laws for this year's Christmas combat.
Fanny & Alexander (1982)
An Ingmar Bergman holiday movie? Not really, but in the first hour we are provided with a lavish holiday feast and a stately house opulently decorated for Christmas.
Just Friends (2005)
Will an unplanned hometown Christmas visit convert an old platonic love into something else?
A Lion in Winter (1968)
The ultimate dysfunctional family Christmas gathering dates back to 1183 at the court of Henry II.
The Little Fockers (2010)
The Focker and Byrnes families celebrate an awkward Chanumas.
Ma Nuit chez Maud = My Night with Maud (1968)
Over Christmas break, four connected people meet and talk about love, desire, philosophy, ethics, Catholicism, and human existence.
Ordinary People (1980)
Around the Christmas holiday a family is challenged by tragedy and dysfunction. 
Precious (2009)
Key scenes in this film about an obese, illiterate, black Harlem teen and her dysfunctional family are set at Christmas.