62d Pennsylvania Volunteers

an American Civil War Infantry Regiment

Regimental History and
Company Rosters, Corrected and Enhanced
The soldiers of the 62d Pennsylvania Volunteer Infantry Regiment were brave, gallant, loyal, and well disciplined. While still in training, they won honors as one of the three best drilled regiments in Porter's Division of the Army of the Potomac. Military historian William F. Fox, writing in the late 1880s, included the 62d Pennsylvania among the top 300 Union fighting regiments. During their three years of fighting in the Civil War, however, they achieved no special glory, nor lasting fame, nor particular distinction. They experienced both victories and defeats, but never did an action of the 62d Pennsylvania create a decisive moment or a turning point in battle. They gained ground, held ground, lost ground, even fled in retreat. They felt the ill effects of weather, disease, idleness and uncertainty. They suffered severe casualties, particularly at Gaines Mills, Malvern Hill, Fredericksburg, Gettysburg, The Wilderness, and Laurel Hill (their name for the fight within the battle of Spottsylvania Courthouse). They marched; they waited; they carried out orders. Twice, at the Second Battle of Bull Run and at Gettysburg, orders they followed in battle were so controversial that the Corps or Brigade commanders giving them were either courtmartialed or pressured to resign. The 62d's three-year term ended months before the satisfaction of a final Union victory, but several volunteers who joined later in the war or re-enlisted became members of a regiment that fought at Appomattox Courthouse and took part in the formal surrender of the Army of Northern Virginia. The officers and privates of the 62d Pennsylvania were typical, imperfect soldiers. Among them were the dashingly dauntless and earnest patriots, as well as the stragglers, skedadlers, and shirkers. In that ordinary way, the volunteers of the 62d Pennsylvania became heroes.























ALERT. STOLEN ITEMS: Items related to the 62d Pennsylvania Volunteers were stolen from Marshall County Courthouse Museum, in Marysville, KS, including diaries and the John Watson photo album, the source for many of the portraits used on this site. If you have any information that might help the investigation, please contact: Marysville Police Department, Marysville, KS 66508. Phone: (785) 562-2343. Email: marysvillepd@charter.net
Company Rosters
Each of the companies had names before they were assigned letter designations. Listed here are the original names of the companies of the 62d and the counties or communities in which they were recruited. For each company there is a separate page with its roster of officers, musicians, and privates. The principal source of information for company rosters is Samuel Penniman Bates' History of the Pennsylvania Volunteers, but the rosters have been corrected, collaborated, or supplemented from other sources, especially to the contributions of many descendants of volunteers and the Civil War Veterans' Card File, 1861-1866, available from the Digital Archives of the State of Pennsylvania.
If you have an information about a volunteer who served in the 62d, even and especially one who is not included here, that you would like to share, please let me know. I will gladly update the rosters to include missing soldiers or correct or add to the information I have listed. Portraits of volunteers, sent in digital form, are especially welcome.
Recruitment
The regiment that would become known as the 62d Pennsylvania Voluntary Regiment, Infantry, was created on the 4th of July 1861, the same day Congress assembled in extra session to authorize a levy for the recruitment of 500,000 soldiers. Sam Black, ex-governor of the Nebraska territory, had returned in June 1861 to his native Pittsburgh, a city then alive with war fever. Black quickly rose to the top of the political and military circles and used his influence to be granted authority by Simon Cameron, United States Secretary of War, to recruit a regiment. In preparation, he gathered about 30 associates who would form the core of his field and staff officers plus captains of several companies. Recruiting was made easier because of the existence of Home Guard units and other military groups that had formed as boys and men had been swept up with military fervor well before the election of Abraham Lincoln. Their numbers and ranks greatly expanded in Western Pennsylvania after August 1860, when Elmer Elsworth's Chicago Zouaves, a precision military drill company with exotically gaudy uniforms, visited Pittsburgh. The wave of patriotic zeal further erupted after Lincoln called for volunteers in early April of 1861, only days after he took office and was supplemented by subsequent official calls by the War Department and by Pennsylvania Governor Curtin.
On the Fourth of July, Black, known as a fiery orator, gave an impassioned speech at an Independence Day ceremony in a park in the city of Allegheny. His speech was just one part of the rally that included drilling exhibitions from as many as fifty teams and home guard units. After the ceremony came to a close, Black was handed a telegram that informed him that he had been officially authorized by the Secretary of War to form a regiment. With the dispatch in his pocket, Black immediately rode out and overtook the Eighth Ward Home Guards on Penn Avenue as they were marching home and invited them to be the first volunteers of the new regiment. The unit's captain, Edward Wright, ordered the company to break ranks to consider the invitation, and within five minutes the company agreed unanimously to join Black. Either through a similar contacts or prior arrangements, on that same day Captain James C. Hull and other officers of the Federal Guards from the city of Allegheny and Captain Thomas Espy and other officers and privates of the St. Clair Guards, mostly members of the Bethel Presbyterian Church in Upper Saint Clair, were also officially mustered in. In all, by the end of the first day, the new regiment was composed of 32 officers and 13 privates -- at least officially. Exactly who signed up on the Fourth is not clear, since many volunteers who signed up that day, including Captain Edward Wright, were not officially mustered in until the 22d of July or later. In the following days, recruitment efforts were expanded in the tri-cities of Pittsburgh, Allegheny, and Birmingham, and elsewhere in Western Pennsylvania. The regiment was virtually full in less than two weeks.
To expedite the formation of his regiment, Black combined forces with recruiting officers from elsewhere in Western Pennsylvania to merge their companies into one new regiment. James Beck of Armstrong County and Thomas Monks and Thomas Kerr of Clarion County had all been making similar recruiting efforts as Black on the 4th of July. The Jefferson Guards had been formed even earlier and joined the new regiment out of disappointment. After Governor Curtin's call was for regiments to serve in the Pennsylvania Reserve, a large force had been recruited from Jefferson County, enough to create two companies. The governor, however, only accepted one company from Jefferson County. When Robert R. Means heard of Colonel Sam Black's recruitment efforts, he banded the remnants of his rejected Jefferson Guards B Company with a partially formed company from Punxsutawney to form a full company. It took little persuasion by Means for Black to accept his company into the new regiment.
As one means of recruiting, a broadside appeared on the streets of Pittsburgh and the other tri-cities in July of 1861 advertising the new unit as a Scott Legion regiment.
The original Scott Legion was an association of Mexican War veterans that served both as a militia group and a fraternal organization. Its veteran soldiers continued to practice military drills in uniform to stand ready to serve the nation again. It also provided aid to its members and their families, such as providing proper military honors at the time of a member's death. Sam Black (and perhaps other officers) had served under General Winfield Scott during the Mexican War. General Scott, nicknamed "Old Fuss and Feathers," was the titular commander of the Union army at the time the 62d Pennsylvania was recruited. Two other Pennsylvania regiments, the 20th and 68th, both recruited in Philadelphia and its surrounding counties, also used "Scott Legion" as a nickname. The Standard History of Pittsburgh calls the 62d regiment "the Scott Legion (No. 2)."
The 62d is unusual because it has twelve companies instead of the standard ten for an infantry regiment. Companies L and M were added a month after the first ten companies had mustered in. Both were formed by officers who had been in three-month regiments who, for reasons that are unclear, tried to form new companies rather than remain in the three-year regiments that evolved out of the three-months regiments. Several officers and privates from Company L had served in the 13rd Pennsylvania Regiment Infantry, and several officers and privates from Company M had served in the 3rd Pennsylvania Regiment Infantry. The two new companies formed quickly. The Blair Guards (soon to become Company M) mustered in on 9 August 1861 only 10 days after its core officers had mustered out of its old regiment. The Chambers Zouaves (Company L) mustered in on 29 August, having mustered out on the 6th of August. Had another Western Pennsylvania regiment been near completion, these companies would likely have joined it, but instead, since the 62d was still in limbo before being sent to Washington, D.C., the two extra companies were tacked onto Captain Black's regiment, officially joining on 31 August 1861.
Although the number 62 might not indicate that the volunteers were among the early wave of patriots to join the war effort, this regiment was one of the first three-year regiments to leave Pittsburgh. The regiment's original designation was as the 33d Independent Regiment. The enumeration problem stemmed from the authority Black received to recruit. Black had recruited his regiment under federal authority outside the Pennsylvania Reserve Corps system, so he lacked state authority to muster in a regiment of Pennsylvania volunteers. The re-designation from 33d to 62d did not occur until 19 November 1861.
One reason the issue took so long to resolve was because both federal and state efforts had been made to recruit regiments, and a certain amount of petty jealousies resulted. The federal government put a quota on the number of three-month regiments required from each state. In Pennsylvania, the quota was filled in less than a week, and only six Allegheny County companies were included. Governor Curtin of Pennsylvania and others in the state campaigned to allow the quotas to be overfilled, but their efforts were turned down. Independently, then, the governor called a special session of the legislature to bypass the quota system. Legislation was passed on 15 May 1861 to organize the 'Reserve Corps of the Commonwealth' for defense of the state. The corps initially consisted of thirteen regiments of infantry, one of cavalry, and one of artillery, formed from companies to be furnished by the counties in proportion to the number of men already in service from each county. Curtain became known as a War Governor and was all for the union, and he was foresighted enough to know that additional regiments would be needed, but he did act with a certain amount of states rights adamancy.
The 62d Pennsylvania volunteers must have joined for many different reasons. Many were caught up in the general war fever that was rampant. The Fourth of July in 1861 was celebrated in Pittsburgh by a grand parade of Home Guard companies and many passionate and persuasive speakers. Sam Black, a soldier, lawyer and politician, was the best of them, according to several sources. Sam Black was an expert stump speaker. He was sparkling with wit and often thrillingly eloquent. When aroused, his whole frame shook, his locks were tossed about, and his eyes flashed fire. Black could also claim a distinguished military experience, having led a Pennsylvania regiment in the Mexican War , where he gained some fame as the hero of the siege of Pueblo. Black's oratory helped him become a very successful recruiter. Few audiences could resist his transcendent power over them, including the audience on that 4th of July in Pittsburgh.
Black was a loyal unionist, but absolutely not a abolitionist. He had been appointed governor of the Nebraska Territory in 1859. His tenure became controversial when he twice vetoed bills that would have outlawed slavery, only to have the territorial legislature overrule him. A territorial governorship was part of the federal patronage system, and after Lincoln won the election in 1860, Black, a Democrat, resigned in early 1861, even before Lincoln took office. Nonetheless, Black returned to Pittsburgh for the sole purpose of organizing a regiment in Lincoln's army to fight against "the great crime of Secession."
Major Gust Lowry (writing when he was the 1st Lieutenant of Company C) explains somewhat his reason for joining the regiment in a letter written early in the Peninsular Campaign: "We all know that there is a God of battles, and I hope we may all trust in him and to his will. And I hope that my dear friends at home will not regret that I have come here. I have only done what seems to be the duty of all young men and what so many have done. I could not have stayed at home & not thought that I was shirking a duty, and loosin [sic] respect in myself."
A similar expression of why men fought in the Civil War is found in a letter from Samuel J Alexander to his wife Agnes dated 1 September 1861: "It ought to be a consolation to know that you have a Husband that is man enough to fight for his Country."
Feelings of patriotic duty aside, many must have seen the war as an adventure and novelty. The company was fully recruited a week before the First Battle of Bull Run had been fought, so the grim reality of war was yet unreported. There were still expectations of a quick victory, so although they must have realized they would be facing death and injury, few believed they would have to serve the long three years or imagine the boredom and hardship that army life would provide. Some, of course, must have joined for remunerative reasons. $13 a month was very good pay for many, and, additional state aid was promised to families of soldiers. In July 1861, however, generous bounties were not yet being paid to enlistees, so patriotism might have weighed in more heavily as a recruiting factor than it could have later. Side note: From company records, it appears that the regiment was paid on the 30th of even-numbered months, except when they were on the march on in the midst of battle.
The original volunteers did not step forward because of a bounty. However, since a federal law was passed between the time most signed up (the 4th of July) and when they were mustered in (24 July or later), authorizing the states to pay a bounty of $100 as a recruitment tool, they should have been eligible to receive one. It is not clear that they ever did. From the act of 22 July 1861 (12 Stat. L., 268), in which President Lincoln was authorized to call up half a million soldiers:
SECTION 5. * * * Every volunteer, noncommissioned officer, private, musician,
and artificer who enters the service of the United States under this act
shall be paid at the rate of 50 cents in lien of subsistence. * * * And in
addition thereto, if he shall have served for a period of two years, or during
the war, if sooner ended, the sum of $100.
A bill proposed in the House of Representatives in 1884 provides evidence that the volunteers of the 62d P.V. had had their $100 withheld. The bill was to authorize the Committee on the Payment of Pensions, Bounty, and Back Pay to make the payment of bounty hitherto withheld from the volunteers of the Sixty-second Regiment Pennsylvania Infantry. I have yet to find a record that the bill became law, so I don't know if the volunteers, at least those honorably discharged after serving at least two years, ever received their money or not.
Perhaps it sounds odd today, but anti-slavery sentiment was very unlikely to have been a motive for many volunteers in this regiment. Because its recruiting officers, especially Sam Black and J. Bowman Sweitzer, were active leaders of Democratic Party, a "great majority of [the 62d] were of the Democratic faith." [Under the Maltese Cross], and the Democratic Party strongly opposed the abolitionist movement. As governor of the Nebraska Territory, Sam Black had vetoed an anti-slavery bill. In the first fugitive slave case to be tried in Pittsburgh, Sweitzer, then a United States Commissioner, took action to prevent the slave from being rescued, but instead ordered that he be returned to his owner.
Geography and Demographics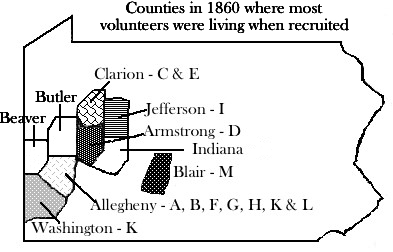 The regiment appears to be unusually heterogeneous -- for its time, at least. Farm hands who had never seen a city were joined together with factory workers who had never before left the city. Native-born and immigrants both were welcomed into the regiment. Catholics fought along side Protestants and non-Christians.
Six of the companies were principally filled with volunteers from Allegheny County. Another company was composed of Allegheny and Washington county residents. The other five companies hailed from Armstrong, Clarion, Jefferson, and Blair counties. At the time, Allegheny County, composed of three cities, surrounded by farmland, had a population of not quite 180,000; that figure was just about equal to the populations of the all other counties combined. Washington County, according to the 1860 census had just under 50,000, and Jefferson County was the smallest with under 20,000. Beaver, Butler, and Indiana counties supplied a considerable number of volunteers, as well, and Lawrence, Mercer, and Venango counties contributed a few. There were Pennsylvanians in the regiment from beyond the western part of the state, and there were a sizeable number of the volunteers (though less then 5 percent) from out of state, especially Ohio (especially from Liverpool), Virginia (from the part of the state that soon would become West Virginia), and New York State. Several who had been born in Western Pennsylvania, but were living elsewhere, returned to their hometown to enlist.
An important distinction for the 62d was its mix of ethnic groups. There is certainly an abundance of English and Scottish names in the rosters, but there are also many Irish, German, Dutch, and French surnames. At least one soldier, Harvey Koontz or Coonce, according to his 1860 Census listing, was a mulatto. A large number of the volunteers had not been born in America, and good many had only been in the country a few years when they stepped forward to volunteer.
The most common occupations of volunteers from Pittsburgh, Birmingham, and Allegheny City were glass workers, boatmen, rivermen, miners, and iron workers. There were no steelworkers. If that sounds odd, you should know that the steel industry was still in its infancy and Andrew Carnegie was more than a decade away from building his first steel plant. Among the iron workers, those working in the foundries producing cannons and other weapons and ammunition probably did not join the regiment, while many volunteers had worked in nail factories and rolling mills. In 1860, glass was still the biggest industry in Allegheny County, and Birmingham was the glass center of America at the time with over 75 glass factories. Glass industry jobs included glass blowers, moulders, cutters, and packers. For several occupations, I am not sure if the volunteer had worked in iron or glass. Rollers could have been employees of iron rolling mills. Puddlers either worked with molten iron or stirred molten glass with rods in furnaces. Master teasers were in charge of regulating the temperature of the furnaces in either iron or glass factories. Farmers, lumbermen, miners, and carpenters were the most common occupations of the rural counties, but a considerable number of farmers lived in Allegheny County as well. Other occupations included laborers, blacksmiths, butchers, bakers, teamsters and wagoners, both brick makers and brick layers, clerks, and merchants. In addition to many shoe and boot makers and boat builders were a few cigar makers, a watchmaker, a whip maker, an axe maker, an axe varnisher, an axe polisher, a hoe grinder, and several wagon makers. There were a couple of car builders, but I don't know what kind of cars they might have built, perhaps mine vehicles. One sergeant in Company M had been a "Tel. Operator." Many in the regiment were school boys, and there were a few law students and several teachers. There was one artist and several painters, but the latter were probably not the artistic kind. At least one doctor volunteered not as a surgeon but as a simple private. A high percentage of the volunteers had "laborer" listed as his occupation with no indication of the trade or industry he labored in. If any were unemployed, the records do not so indicate.
Colonel Black was joined by other lawyers and aspiring politicians and other professionals among the ranks of the officers. At least a few called themselves Gentlemen. However, there were many officers who were carpenters, clerks, hotel keepers, and farmers. If a majority of the 62d were "of the Democratic faith," substantial numbers of the volunteers, especially those from rural counties, were probably Republicans. Fanatical prohibitionists joined those about whom we might say favored more than an occasional nip. Some, of course, shared a bit in common with both camps. Jake Shenkel, a drummer from Company L, in his war diary, records both attending numerous Sunday services and prayer meetings and getting "three sheets to the wind" on just as many occasions.
In the 62d Pennsylvania, unlike many other regiments, was very ecumenical. Company H was largely filled with members from the Bethel Park Presbyterian Church, while other companies were predominantly Catholic. Catholics, Presbyterians, as well as Lutherans, Episcopalians, other protestants, Free Thinkers, and Jews, fought side by side. One indication of this harmony comes from a statement about the 62d made from soldiers in the Ninth Massachusetts regiment that was primarily Irish Catholic. The two regiments were particularly attached by ties of strong friendship that continued throughout their entire service. The regimental history notes that "They [the 62d] joined in our little festivities and we engaged in theirs. They participated in our celebrations on Saint Patrick's day with as much zest as "those to the manner born." It was thus we went through the hardships of our soldier life." I don't know what to make of the fact that two chaplains quit, and the regiment was without a chaplain for most of its service. In the History of the Newspapers of Beaver County, Pennsylvania by Francis Smith Reader (1905), there is a note that Smith Curtis, who was born and educated in New York State, was ordained a minister in 1861 and "in 1862 was elected Chaplain of the 62d Pennsylvania Volunteers, but was not permitted to serve." No further explanation is provided. He later left the ministry and became a newspaper publisher.
The 62d possibly had a few Jewish officers. If so it would have been one of only a few regiments, not primarily Jewish, that included Jewish officers. Three books, including Isaac Markens' self-published Hebrews in America (1888), Henry Samuel Morais' The Jews of Philadelphia, and Simon Wolf's The American Jew as Patriot, Soldier, and Citizen (1895), list three Jewish officers in the 62d Pennsylvania: Captain Gremitz (no first name) and a Sergeants Emanuel Myers and Cohen (no first name). It is likely that the later books simply repeated information from the first, however, and are not independent sources. All names are listed without company information, and unfortunately I can find no matches for them in roster lists. The closest name to Gremitz I can find is Captain Detrick Gruntz of Company L. There is a Sergeant Myers in Company G, but his name is listed Jacob Myers. I can find no Sergeant Cohen, but there is a Sergeant Milton C. Goheen in Company C. The Goheen family was Presbyterian, according to a Goheen family genealogist who contacted me, so my best guess was disproved. The claim by Morais that the officers were from Philadelphia may indicate the number of the regiment was mis-transcribed. Jules Cohen served as an assistant surgeon [surg not serg], for the 26th Pennsylvania Infantry, a Philadelphia regiment. Unfortunately, I can't uncover any captains there with names similar to Gremitz. I have nothing closer than a Captain William L. Grubb. I find no one named Myers, Myer, Meyers, Meyer, Mayer, or any other variations on that name serving as sergeant in the 26th. Five men named Emmanuel Myers served in Pennsylvania regiments, but none are listed as anything but privates, and none served in either the 62d or the 26th. Although I have doubts in general about claims of Jewish officers in the 62d, I find the possibility intriguing.
In other ways the regiment was probably very typical. Certainly the regiment included both hard-workers and law abiders as well as rascals, scoundrels, shirkers, and outright thieves and pickpockets. Brothers, cousins, and other family members served together. There were a few fathers and sons serving in the same company. Sergeant William Hagerson signed up with his son Asa to join Company D. Also in Company D, Corporal Wesley K. Dillon was the son of Reuben Dillon a private. Wesley was only 15 when he joined. There were were a few soldiers listed as 14 years old when they mustered in, and some who may have been that age or younger whose age was not listed or was listed differently. George Snyder of Company B listed his age at enrollment as 18, but he was discharged by an order of the War Department for being a minor. George W. Freeman of Company E, was officially 14, and census records confirm his age. Conrad Dittmere, a musician in Company B who deserted (date unknown), was listed as 14 when he mustered in, but census records indicate he might actually have been 6. I wish I could find more about him. The vast majority of privates were aged 18 to 25, but many were in their thirties and more than a handful over 40. Of the enlisted soldiers, the oldest I have found so far was Thomas A. Work, of Company E, who mustered in at age 51. John Hauch of Company F was listed as 45, but according to the 1870 Census would actually have been 50 at the time when he mustered in with his son Lewis, who may not have been 16, even though his age was listed as 19. John N. Hauch was discharged for "S.C. of D. & old age." The personal information is missing from Civil War Veterans' Card File, 1861-1866 for Bonaparte Hardin, but his age may have been 59 when he mustered in — there is only one Bonaparte Hardin, including variations of spelling, from Pennsylvania or other northern states, in each of several census records leading up to the Civil War. I have looked up more than half of the volunteers in the Civil War Veterans' Card File, 1861-1866, but have a lot more to go, so I may find someone even older. Because of the omissions, inaccuracies (some of which were purposeful), we may never know who the youngest and oldest really were.
Organization
Ten companies were mustered into service between 24 and 29 July 1861, for three years. On 31 August 1861, Companies L and M were added to the regiment, and it was officially organized and designated as the Pennsylvania 33d Independent Regiment.
To conform to Army regulations for volunteer infantry regiments, each of the companies, now identified by letter instead of name, would have consisted of a Captain, a First Lieutenant and a Second Lieutenant, a First Sergeant and four Sergeants, eight Corporals, a minimum of 64 and a maximum of 82 privates, a wagoner, and 2 musicians. The whole regiment was commanded by a Colonel, aided by a Lieutenant-Colonel, a Major, and a small regimental staff including an Adjutant, a Quartermaster, a Surgeon (who was given the rank of Major), a Chaplain, a Sergeant-Major, a Quartermaster's Sergeant, a Commissary-Sergeant, and a Hospital Steward. In addition regulations required a regimental band. Reports indicate that the regiment started out full, so that would have numbered 1000 to 1200 soldiers. Substantial numbers were lost to disease over the first winter, before the first battle was fought. For most of the war there was no regular nor permanent system for recruiting soldiers, so the regiment never achieved full strength again. Before the Battle at Gettysburg, the 62d Pennsylvania regiment was close to 400 soldiers, and in the immediate aftermath of the battle it could barely muster a hundred. On only two occasions were significant numbers of soldiers added, after Gettysburg and before Grant's Overland Campaign. It is possible that regimental officers took leaves of absence to go on recruiting missions, but I have seen no record of it. In the two months following the Battle of Gettysburg over a hundred soldiers were added, and in the period of February through March 1864, preceding Grant's final Overland Campaign, perhaps fifty soldiers refilled the ranks of the regiment. In no other month were there as many as twenty new soldiers. When Companies L and M were transferred to the 91st Pennsylvania Volunteers when the rest of the 62d were mustered out, there was an aggregate of 46 between the two companies, only a quarter of their original size. Approximately 1600 soldiers served with the 62d Pennsylvania Volunteers at some time during the three years.
The Pennsylvania 62d Infantry Regiment served in the Army of the Potomac throughout its three years of existence. It was originally assigned to the Second ([Brigadier-General George W.] Morell's) Brigade of [Major-General Fitz John] Porter's Division of the Third Army Corps, commanded by General Samuel P. Heintzelman. In the reorganization of the Army after the Siege of Yorktown (the 62d's first encounter with the Confederate army), when two additional army corps were created, the 62d was assigned to the Second Brigade of the First Division of the Fifth Provisional Army Corps. After the War Department confirmed the re-organization on 22 July 1862, the "Fifth Provisional Army Corps" became the Fifth Army Corps of the Army of the Potomac. As regiments were mustered in and out and the army reorganized several more times, the make-up of the Second Brigade changed, but the 62d Pennsylvania remained in Second Brigade of the First Division of the Fifth Corps until it was mustered out. The 62d Pennsylvania's companion regiments in the brigade included the 14th New York (1st Oneida County Regiment), 9th Massachusetts (Boston's Irish Ninth), 32d Massachusetts, and 4th Michigan. Other regiments and batteries served along side the 62d Pennsylvania more briefly.
In the spring of 1863, after General Daniel Butterfield became chief-of-staff of the Army of the Potomac under General Joseph Hooker, he instituted a system of Corps Badges to distinguish units. The badges were distinctive shapes of flannel cloth about an inch and one-half wide that were sewn or fastened onto soldiers' caps. The Fifth Corps (Butterfield's old corps) was assigned the Maltese Cross. The divisions of the corps were assigned different colors. The First Division of every corps was red, so the insignia of each regiment in the First Division of the Fifth Corps (including the 62d Pennsylvania) was a red Maltese Cross.
According to Sergeant William Smith of Company D, the regiment was camped initially in a cow pasture in the city of Allegheny, now Pittsburgh's North Side. He indicated, in "Transactions of the Kansas State Historical Society," 1902, that the location is "now a magnificent park, adorned by the Carnegie Free Institute." I believe he is referring to West Park, Western Pennsylvania's first urban park which was originally common grazing land. Next to the park is the Allegheny Branch of the Carnegie Library, which was the original Carnegie Free Library. It is also very near where the Pittsburgh Pirates and Steelers play. Smith also noted in an address before the national encampment of the Grand Army of the Republic, held at Pittsburgh in 1892, that after the battle of Bull Run, the secretary of war inquired when Black's regiment would be ready for the field, and the colonel responded as soon as transportation could be furnished. In three hours a young telegraph messenger brought into camp an order for the regiment to move to Washington immediately. The young messenger, according to Smith, was Andrew Carnegie.
On 24 July 1861, the regiment moved from Pittsburgh to Camp Cameron, near Harrisburg. According to a soldier correspondent, J.T.C. [possibly James T. Couch of Company H] in a report published on 14 August in the Pittsburgh Gazette, Colonel Black scoured the countryside for possible locations and found "the most beautiful camp ground in the country." It may also have helped that Black had political connections, since the camp was on farmland just east of Harrisburg belonging to Secretary of War Simon Cameron, hence its name. The secretary even visited the camp once. J.T.C. was no griper, reporting that they had adequate shelter from good quality tents and a nearby stream for bathing and washing clothes, and rubbish was cleared away every morning. He praised Samuel Black for his strict discipline, writing, among other things that "No obscene language or swearing whatever is tolerated."
After Companies L and M were added on the last day of August, the regiment proceeded to Baltimore, camping at Patterson's Port, across the harbor from Fort McHenry. From Patterson's Port, the regiment proceeded to Washington, encamping at Camp Rapp, on Kendall Green, in the northern suburbs of the city, where Gallaudet University is located presently. Only after it arrived at Fort Rapp was the regiment fully outfitted with clothing, equipment, and arms. Six of the companies received Springfield rifles; the other six received Enfields, the older smooth bore muskets. On 11 September 1861, the regiment crossed the Potomac and went into camp near Fort Corcoran, close to the southern bank near the Aqueduct Bridge. There it was assigned to the Second Brigade of General Fitz John Porter's Division. Technically the regiment was at Fort Corcoran to defend Washington, but it was here that volunteer soldiers were drilled into a fighting unit and put on fatigue duty at work constructing roads and throwing up entrenchments.
On the 26 September the regiment was moved with the new line at Fall's Church after the enemy had fallen back from Munson's Hill. It remained there only a few weeks before it moved to Minor's Hill to set up winter quarters. The new camp was called Bettie Black after the captain's youngest daughter. A reporter of the New York World described Camp Bettie Black as "the model camp of the Army of the Potomac," with streets lined with rows of cedars, and at the end of every street an arch, with the letter of each company in a wreath suspended in its center.
While still in their early days of drilling, several members of Company D had an encounter with a stranger. Could a regimental history be complete without a good Abraham Lincoln anecdote?
"The Best Disciplined and the Most Efficient in Drill"
Tales of Civil War volunteer military units typically describe how a ragtag bunch of citizens-now-soldiers are slowly molded into a crack regiment by unprepared officers who themselves have to learn discipline. Under Colonel Black, however, the volunteers of the 62d apparently excelled in drill and discipline from the beginning. Before the regiment was formed, there was a great diversity in skill and readiness among the companies. Many of the urban volunteers, however, had been members of existing Home Guard units that had been in training since the rumors of war had begun. At least one company grew out of a Zouave unit that would most likely have been funded by a generous backer for uniforms and equipment and been trained specifically as a precision military drill team. Other Home Guard units, though, may have been not have been armed with even as much as old flintlock muskets and may or may not have had uniforms. Whether or not the regiment had a headstart, "on two or three occasions," the Out-line Field History of the Sixty-second Regiment Pennsylvania Volunteers reports, "the Regiment formed a line of battle, and promptness with which the men obeyed every order, their eagerness to be well drilled caused Col. Black's heart to swell with pride and from the very first he entertained the greatest confidence in the men comprising the regiment." Even back in the Mexican War, Colonel Black had a reputation for spit and polish. According to Notes on the Mexican War, 1846-47-48, by J. Jacob Oswandel, a soldier in Black's First Pennsylvania Regiment, Black, whom Oswandel thought was "a tip-top fellow" who could be "full of jokes and fun," was a stickler for cleanliness and held dress reviews for hours under the hot sun. Even when they were under siege, Black issued orders for all of his regiment "to whiten their belts and clean their muskets, and brush themselves a little, so as to look like soldiers, and not like guerillas."
The parade ground in front of the camp was tramped "as hard as the alley ball court" according to one account. Their efforts paid off in their winning a contest held within the Army of the Potomac to select the best drilled regiments. A grand review was held at Bailey's Cross Roads at Munson's Hill, about eight miles from the capitol. Although claims at the time in letters and newspaper articles claimed that the contest included the entire Army of the Potomac, it appears to have been limited to Porter's Division of the Third Corps of the Army of the Potomac. Even if only limited to Porter's Division, the honor reflected well against the rest of the Army of the Potomac, since George McClellan may have selected Porter's Division for the contest since he had earlier called it a model division that the rest of the army should imitate because its discipline and drills were stricter than anywhere else in the army. The 62d Pennsylvania Volunteers were awarded the best of Morrell's Brigade, the 83d Pennsylvania Volunteers, commanded by Colonel John W. McLain and recruited principally in Erie County, were deemed the best of Butterfield's Brigade, and the 18th Massachusetts, led by West Pointer Colonel James Barnes, secured the uniforms out of all the regiments in Martindale's Brigade. The Out-line Field History further suggests the limits of the contest by reporting that the Colonel had as his ambition to create "the best disciplined and the most efficient in drill of any in the Brigade."
The winning regiments received Chasseur uniforms. According to a diary entry from a soldier in a companion regiment, the uniforms were first worn in a ceremony just before Christmas. Wilson, from companion regiment 22d Massachusetts, wrote: "Dec. 21, Porter's division, comprising fifteen thousand troops, were reviewed at Ball's Cross-roads, and, although small as compared with that of Bailey's Cross-roads, it was a grand spectacle. The Sixty-second and Eighty-third Pennsylvania Volunteers appeared for the first time in their new Chasseur uniforms, and were each presented with a stand of colors. After the review the division was drilled, and the affair had quite the appearance of a battle. Secretary Cameron was present, and also Gen. McClellan."
The uniforms were constructed of very heavy material that were either purchased from French or presented by the French government. The uniforms have been incorrectly reported in some accounts as Zouave, but were "Chasseur de Vincennes." Its other designation, "French M1860 light infantry," indicates the date of its design and its origin as the French light rifleman uniform. In addition to complete uniforms, from cap and hat, to shoes and gaiters, the volunteers appear to have been awarded, among other accessories, knapsacks, haversacks, clothes brushes, and sewing kits. The winning regiments also received "camp and garrison equippage of that nation complete," including "large round French tents," pots, pans, and other mess gear. A letter written by James L. Graham, a member of Company H, describes the tents as made of linen and designed to hold 16 men, circular, 18 feet in diameter, with a center pole. In the interior, around the pole, was a rack for storing weapons.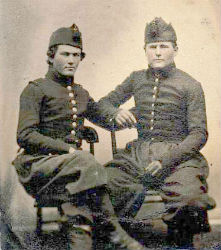 A description of the uniform was provided in a newspaper article (source unknown) included with a packet of James L. Graham's letters: "It is blue. The breeches are about three feet across the hips, tapering down to the ankle; a sort of blue monkey jacket, a large cape with a hood fastened to the back of it; one tight cloth skull cap with a tassel, and a dress parade cap which very much resembles our old patent leather cap. This cap has a plume of red, white, and blue feathers." The portrait of Sam Temple to the right shows well how baggy the pants actually were. The volunteers in the double portrait to the left may be members of the 62d P. V. or the 83d P. V. The portrait is a copy of a tintype that surfaced in Sharon, Pa., and is presented on this website courtesy of the Marcus S. McLemore Collection, Poland, Ohio. If the soldiers hailed from Sharon or had family living there, it is uncertain which regiment they might have joined. Sharon, in Mercer County, is somewhat half way between Pittsburgh, principle home of the 62d, and Erie, the home base of the 82d. Details from the Civil War Veterans' Card File reveals a few 62d volunteers were from Mercer County, but no recruiters from the 62d were sent there. For other images of the uniform, see the portrait of William Hays of Company E (although he had his picture taken without the cap), George Killmer of Company L (seen in the full garment from cap on down), and Charles Seager, Sergeant-Major of the regiment, although the portrait was probably made when he was still serving in Company F. Ernie Spisak's article on the 62d in Gettysburg Magazine quotes an Altoona Tribune reporter, "I am sure it is the ugliest garment on the banks of the Potomac." None the less, many volunteers thought it a "big thing" and hurried to be photographed in the new uniforms. The 62d was further rewarded, perhaps more beneficially, by being re-armed so that the entire regiment was now issued the improved Springfield rifles.
The Chasseur de Vincennes uniforms won by the 62d were never worn into battle. According to Private Graham's letters, the regiment received the uniforms in late 1861 and wore them in camp for a time. Colonel Black, likely recognizing their unsuitability for active campaigning, eventually ordered them packed up. Another problem is noted in a letter from Col. Mclane of the 83d P.V. to General Butterfield. One third of uniforms were too small to fit any of his volunteers and his entire regiment could not be fitted with what remained. Black no doubt experienced the same allotment. The uniforms were sent back to Washington with the extra baggage in January 1862. The 62d returned to their old sky-blue uniforms, with low shoes, leather gaiters and leather leggings up to the knee. Ironically, some of the volunteers may have ending up wearing parts of the uniforms later in the war. The 155th Pennsylvania, awarded the right to wear Zouave uniforms just before the Battle of Gettysburg, were not issued genuine Zouave cut trousers, but received the old Chasseur pants that the Quartermasters Department pulled out of storage. Some members of the 62d joined the 155th after the 62d was mustered out, so a few of the volunteers may have worn parts of the gaudy uniforms both at the beginning and the end of their military careers.
For a comparison, the portrait to the right of Pvt. Lewis Workman of Company K from before the war while he was a member of the Tower Zouaves, based in Washington County, Pa., shows what a zouave uniform looked like.
Uniforms
The original uniforms were sky blue from top to bottom. In early August 1861, Black requested the sky blue jackets in the style of the uniform worn by the federal army in the Mexican war. This connection with the Mexican War would have been in keeping with the regiment's Scott Legion designation. The first uniforms were received within a month. Don Troiani's Regiments and Uniforms of the Civil War (2002) indicates that by 31 August, an initial delivery of 247 pairs of sky blue trousers and 449 sky blue jackets were received. The fact that a non-standard order was fulfilled so quickly likely indicates Black's political connections. Here is a description from the Out-line Field History: "The Regiment here on the 3rd of September received its uniforms, comprising a pair of sky-blue pantaloons and a neat roundabout or jacket of the same color and material, and a dark blue cap besides a good serviceable overcoat, shoes, underclothing etc. Companies L and M wore a dark blue blouse which distinguished them from the others as the flanking companies or skirmishers for the regiment." This is a strong indication that Company L, known as the Chamber's Zouaves, did not wear their Zouave uniforms after the company was added to the regiment. It is likely that they received the standard jacket issue for no other reason than those two companies were added after Black's initial uniform request. The sky blue uniforms were worn for only about six months. This uniform was replaced by the earned chasseur uniforms, but by the start of the Peninsular Campaign, the volunteers donned the standard dark blue over sky blue. According to Slim Bowser (a member of Company D, 62nd PA Vols., a Living Historian group), when the regiment received its designation as the 62d Pennsylvania Volunteers shortly after it arrived on the eastern shores of Virginia at the start of the Peninsular campaign, the standard Union garb -- sky blue pants, dark blue jackets -- was issued. On his site, he has a pair of tintypes from the Ronn Palm's Museum of Civil War Images taken of the regiment when it was still called the Pennsylvania 33d Independent Infantry, when the volunteers were still wearing their light colored uniforms, both top and bottom.

As unwearable as the heavy wool chasseur uniforms may have been, even the regular issue uniforms were made of wool cloth, both blouse and trousers. Even the undergarments were of made of wool flannel. In the summers of Virginia, the uniforms must have been heat-stroke-inducing to wear. Lucky soldiers had substitute clothing sent from home, but cotton shirts and undergarments were not widely available for those in the North, since the South was then the world's main source of cotton. It may not have been a coincidence that only one major battle in which the 62d Pennsylvania was engaged was fought in the month of notoriously hot month of August.
Moorehead Rifles
A name was given to the regiment by Special Order No. 1, on 1 January 1862. "This Regiment shall be named and known as the Moorhead Rifles, in honor of J. K. Moorhead, Representative from Pennsylvania." The name was given with the unanimous consent of the twelve company captains and the field and staff officers. There is a reference to the new name in a letter by Gan Lowry of Company C, indicating that the regiment was named after "Senator Morehead [sic]" from Pittsburgh. James Kennedy Moorhead, however, was not a Senator, but a member of the House of Representatives, representing a congressional district around Pittsburgh. Before he entered political life, Moorhead had made his fortune through the development of the Pennsylvania Canal and a line of packet boats, the building of locks, dams, and bridges, and speculation in railroads and telegraph. J.K. Moorhead and Samuel Black were both of political importance in Pennsylvania, but Moorhead was a Republican and Black a Democrat. They had a non-political connection, however. Black's daughter Emily married Moorhead's son, William J. Moorhead, in January of 1864. I do not know what their connection was two years earlier, however. As these are the only two references to the "Moorhead Rifles" that I have seen, I think the name did not catch on.
Sobriety
In February, 1862, while still drilling at Camp Bettie Black and before they had seen any combat, several officers, non-commissioned officers, and soldiers from Company I signed an "Oath of Sobriety." [Thanks to George Wilkinson, collector and researcher of the Fourth Michigan Regiment, for sending me the image of the oath.] They pledged to abstain from intoxicating liquors for the duration of the war. There is no record what prompted the soldiers to take the oath, whether or not other companies had similar oaths nor how successful any of the soldiers of Company I were in fulfilling their pledge. In the diary of Jacob Shenkel of Company L, he describes an order issued against smuggling whiskey into camp and punishments for getting drunk. Privates would be tied up and officers would be reduced in rank without trial. Shenkel, however, also notes in one entry that his friend Bash Cowen "was a little in the Wind from the effects of some milk mixed with a little something stronger than water." The same friend faced court-martial in March 1863 for breaking into the medical supplies and stealing a couple bottles of whiskey. Whiskey and brandy were the medicines most widely used by regimental surgeons, and the 62d was used in a test of the prophylactic use of quinine and whisky.
At the start of the Peninsular Campaign an imbedded journalist (an unnamed correspondent of the Pittsburgh Gazette who attached himself to the 62d Pennsylvania) reported in a letter dated 27 May 1862 (published in the paper on 4 June 1862) that "the social and moral deportment of the men is worthy of special notice. I have seen but one man under the influence of liquor, and with probably two or three exceptions have heared [sic] no profane language. Many of the them are sincere christians, and their fervent prayers ascend every evening to the God that controls our destinies. Col. Black may justly feel proud of his command."
William Withers, Jr., and the Regimental Band
There is little record of a regimental band attached to the 62d. When regiments were forming at the beginning of the war, each was required to have one. The musicians were specifically non-combatants, and their primary duty of the regimental band was to provide music during marches and ceremonies. Especially early in the war and for regiments stationed in defense of cities, they often traveled apart from their regiments to play concerts and serenades. The regimental band, made up mostly of brass instruments, was distinct from the field musicians who were, ideally, a drummer and fifer from each company plus a bugler. The regimental band was a real marching band, in that they accompanied the regiment as it marched to and from battle. The band could be employed by the commanding officer to coordinate field maneuvers. During a battle, both field musicians and regimental band members formed the ambulance corps, and under command of the surgeon served as stretcher bearers and tended to the wounded.

Thanks to the research of John Bieniarz of the 12th NHV Serenade Band, some information about the 62d's regimental band has come to light. William Withers, Jr., bandmaster, and the former 12th N.G.S.N.Y. regimental band entered into service as the bandmaster of the 62d while the regiment was stationed around Washington, DC. In the band were Withers' father and several brothers. They were available because their previous regiment was a three months national guard unit that had just mustered out. Before the war, the band had been well established in New York State as Withers Brass Band. While in the Washington, DC, areas they honored their New York State origins with the name the Withers Excelsior Band. In mid-1861, when the 62d was forming, competition to enlist regimental bands had become fierce. Colonels vied with each other to secure the services of good bands for their regiments, and it is quite possible that Colonel Black outbid other regiments for the Withers band. If or why there was no regimental band attached to the 62d before they reached Washington is not known. The Pittsburgh area was rich in brass bands.

One member of the band was a volunteer from Company E. Hugh Fackender mustered in as a corporal, but in either March or April 1862, probably in early March when the regiment was still stationed outside of Washington, D.C., Fackender was detached as a 3d Class Musician in the "Brass Band." He held the ranks of Corporal and 3d Class Musician. In the July & August 1862 Field Staff & Band Muster Roll, there was the note for Fackender: "Return to Company by order of War Dept." When he rejoined his company, he was listed as a Musician, must likely a bugler. It was as a private, however, that he was killed in action at Bethesda Church, Virginia, on 3 June 1864.

By 1862, as the realities of war had set in, both militarily and economically, the act that authorized each regiment of volunteers to have 24 musicians for a band was repealed. Regimental bands were abolished through War Department General Order No. 91, but for some reason, several contemporary sources also refer to General Order No. 151. In their stead, brigades were authorized to have 16 musicians as a band. Most regimental bands mustered out as a whole, and only in cases where band members had also enlisted in a company, such as Hugh Fackender, did they remain in the regiment. Although many regimental bands continued in an unofficial capacity, paid for by the officers or other benefactors, not by the government, there is no evidence that the Withers or any other band members except Fackender remained with the 62d. After 1862, the company musicians continued as each regiment's fife and drum corps.

William Withers, Jr., became famous for one thing later in the war. He was the orchestra leader at Ford's Theater the night Lincoln was shot. When Withers chased after the assassin, John Wilkes Booth turned and stabbed at Withers, cutting two large gashes in his coat.
One More Musical Digression
Taps was first heard in the Fifth Corps during the Peninsular Campaign. Daniel Butterfield wrote (or adapted) it with the assistance of bugler Oliver Norton of the 83rd Pennsylvania, when Butterfield commanded the Third Brigade of the First Division of the Fifth Corps. The soldiers of the 62d Pennsylvania, in the Second Brigade, undoubtedly would have been among the very first to hear it, and a bugle from the 62d may have been one of the first outside Butterfield's brigade to play it. Despite a legend that quickly arose that the tune had been written in a tragic response to discovering that a dead Confederate soldier was the composer's son, neither Butterfield nor Norton had a son in the Confederate ranks. Instead they wrote Taps and other bugle calls possibly for no better reason than to while away the time awaiting orders while in camp at Harrison's Landing toward the end of the Peninsular Campaign. Taps was a revision to the signal for Lights Out, a tune Butterfield disliked.
Defending Washington, DC
In addition to military training and drilling, the regiment spent as much or more time in construction. They built roads, threw up earthworks, dug entrenchments, and cut away pine forests beyond Arlington Heights. During their three years of service, much more of their time would be spent in throwing up breastworks and digging trenches than in fighting. An axe and spade would be as coveted as a gun. Here is how General Wm. T. Sherman described the work: "These field entrenchment's are peculiar to America, though I am convinced they were employed by the Romans in Gaul in the days of Caesar. Troops, halting for the night or for battle, faced the emery; moved forward to ground with a good outlook to the front; stacked arms; gathered logs, stumps, fence-rails, anything which would stop a bullet; piled these to their front, and digging a ditch behind, threw the dirt forward, and made a parapet which covered their persons as perfectly as a granite wall."
While at Camp Betty Black, wives of some officers were at least occasional visitors. then Lieutenant Gust Lowry of Company C reports in a letter home that "Mrs. Col Black and her two daughters have been in camp for a good while & left yesterday. Mrs Capt Means is here now. It looks very nicely to see womin in camp." This might suggest that no women served as soldiers in the Sixty-Second, but there definitely were women serving with a companion regiment at this time. Albert Westgate, a soldier from Company G of the 4th Michigan wrote: "Several of the soldiers with me on picket are women. They are all from the town were Uncle Silas used to live. They are very patriotic to destroy this infernal rebellion by what ever it takes. They say M'Clellan has been a sh*t-ass for sitting around all the time when he should be driving rebs back to Richmond." Later in the letter he noted: "The gals say that is the only way the Union can win this thing and I tend to agree with them. Also they don't believe in taking any prisoners— just shoot 'em dead and let the buzzards have a feast. They are good soldiers and take their share of the duty and they are also fair shots, too." He speculated that even though his sergeant knew of their presence, "as long as he says nothing to the Lieutenant everything will be all right for them. The danger that we face daily makes us all work well together." (Bertera, Martin N. and Crawford, Kim. 4th Michigan Infantry in the Civil War. East Lansing: Michigan State University Press, 2010, p 45.) No further mention of the women was made in any of Westgate's or other soldiers' letters, so what became of the female soldiers is unknown.
The drilling on hard ground must only have occurred part of the time while at Camp Betty Black. One of the Lowry letters sent in January describes "mud in our camp... about two feet deep and still rising."
Finally on 28 September Porter's division received orders to clear the area of Northern Virginia near Washington from Rebel forces. The Confederates put up little resistance beyond skirmishing, and the 62d was not in an advanced position. The result of the movement for them was simply that regiment's camp was moved to the outskirts of Fall's Church. The 62d's brigade occupied a station on the Alexandria, Loudon and Hampshire Railroad. They stayed there only a few weeks before they moved once again. In mid-October they went to winter's quarters in Camp Bettie Black (named after the colonel's youngest daughter) on Minor's Hill, an eminence (elevation 454 feet) just outside the western corner of the District of Columbia, just outside Falls Church, Virginia. Only after they went to winter quarters did the military drilling proceed in earnest with discipline rigidly enforced. The camp routine was squad drill from 6 to 9 in the morning; then from 10 to noon, each company had its own drill. After an hour off for lunch, for the next four hours until 5 p.m., there was battalion drill. In the evenings officers received their own further training.
Drilling, review, and inspection continued until spring. General George McClellan, the chief of the army following Bull Run (until his command was reduced specifically to the Army of the Potomac), spent many months improving the fortifications around Washington, bringing order and professionalism to the army, planning campaigns, waiting for spring weather, and battling the President's advisers. Importantly to the troops, he spent many hours reviewing them, and it is said that because of the personal interest he showed the soldiers as they were drilling and forming themselves into combat units that he gained their deep loyalty. Winter camp at Minor's Hill brought the 62d a taste of conditions they would have to face for the next three years. The climate was milder than Pennsylvanians were used to, but living in tents, the volunteers learned of cold nights. There was some snow and much rain, and the rain brought much mud by mid-January. In a nearby camp, this complaint was sounded, "Owing to the mud Blockade, we are still in our old camp. The 'Sacred Soil' is in the most profane condition. Did you ever notice a fly endeavoring to walk through a dish of molasses? If you did, you can form some idea of our abortive atempts to wade!"
The army took no action againt the threatening Confederate Army until it had already evacuated Manassas on 8 March. The 62d Pennsylvania was part of a reconnaissance mission by Porter's Division to explore Manassas to confirm the reports that the Confederates had abandoned it. The Second Brigade proceeded to Fairfax Court House trudging through mud that was knee deep in several places for two days before they reached Fairfax Court House. When Porter's division found that Confederate stronghold had been abandoned, it was sent the next day to Centreville only to discovered that the Rebel works there, too, had been abandoned. What they discovered instead were painted logs propped up to look like cannons. Reporters accompanying the Federal force wrote in their dispatches about the "Quaker guns" that had fooled General McClellan. The reconnaissance showed there was no need to try to defend Washington, D.C. against imminent threat, forcing new plans for an offensive against the Confederates.
State Colors
It would have been while at Camp Bettie Black, that the regiment and most of the companies were presented with their banners and battle flags. The state colors were presented to the regiment on 21 December 1861 by Senator Edgar Cowan. This flag had been manufactured by a Philadelphia firm, Evans and Hassall. An image of the state colors flag located on the Pennsylvania Capitol Preservation Committee reveals that slightly less than half of the flag still survives. As part of the ceremony, Colonel Black accepted the colors and dedicated himself and his regiment "to the service of the country, the defense and vindication of its flag, the restoration of the Constitution in all its power, and preservation and perpetuity of the American Union in in every part of its wide and great dominion" [From Saurs, Advance the Colors]. At least one of the flags was replaced. Drummer Jacob Shenkel of Company L recorded in a diary entry for 22 April 1863: "Dress Parade. Escorted our New Flag out and Back. Cold and Cloudy to Day." A company flag was preserved and is kept by the Captain Thomas Espy Grand Army of the Republic Post #153. A letter from William Hagerson indicates that the flag of Company D received 47 bullet holes through it within a little more than a year. The sergeant, returning to the regiment in the February of 1863, wrote that when he looked at it "a thrill of Patriotism runs through me."
Campaigns and Battles
The Sixty-Second fought in over twenty battles, assaults, or sieges from the Siege of Yorktown that started on 5 April 1862 to the Siege of Petersburg, which ended for them on 3 July 1864. Major battles for them were Gaines Mill, Malvern Hill, Fredricksburg, Gettysburg, the Wilderness, Spottsylvania, and Cold Harbor. Other battles in which they were present but were held in reserve or saw limited action included the Siege of Yorktown, Hanover Courthouse, Second Bull Run, Antietam, Chancellorsville, and the Siege of Petersburg. For details, see Campaigns and Battles on a separate page.
Casualties and Disease
More than half of the volunteers of the Sixty-Second were killed, severely wounded, captured, or went missing in action. About a third of the volunteers died of disease. For details, see Casualties and Disease on a separate page.
The 62d does not appear to have had any more or fewer deserters than other regiments. As in the other regiments there were many reasons for desertion, and it was not necessarily a sign of cowardice. In many cases the records indicate the dates and places of desertions, and in a high percentage of cases the volunteers deserted not during battles, but in the boring times between battles, especially while in winter quarters. Many deserters returned voluntarily or were transferred to another company to serve the time, with penalty, remaining in the term of service.
In the regulations, the punishment for desertion was execution, but pardons or lesser sentences were routinely given. I know of no member of the 62d who was executed for desertion, but in one celebrated case, the 62d Pennsylvania, as part of the entire Fifth Corps, witnessed the execution of five bounty-jumper deserters. Bounty-jumping started fairly early in the war after recruits were paid bounties to enlist, and scoundrels would enlist, collect their bounty, but instead of reporting for duty, desert to enlist elsewhere under a different name. Bounty-jumping became epidemic after the draft was enacted with its system of allowing draftees to avoid serving by paying a bounty to substitutes. A month after Gettysburg, the army decided to dramatically execute some bounty-hunters as a deterrent, and took advantage of five bounty-jumpers who had signed up with the 118th Pennsylvania but were caught and arrested on 13 August 1863 when after escaping en route to they tried to re-cross the Potomac. Seven days later they were court-martialed and sentenced to die before a firing squad. All had previous bounty-jumping records; and, perhaps a major factor in the decision to execute them, all were foreigners. Only one had a good command of English; two were Roman Catholic, and one was a Jew. The appeal made to President Lincoln, but he was uncharacteristically unsympathetic. After one stay of execution to allow time for a priest and a rabbi to arrive, on 29 August the three divisions of the Fifth Corps formed three sides of a hollow square, while a military band played somber music. Members of the press, including an illustrator from Harper's Weekly, were among the assembly of witnesses, as well. Graves were dug. Coffins were placed beside the holes. The manacled prisoners were positioned in a sitting position on the coffins, and sixty members of the provost guard fired upon Charles Walter (aka C. Zene), a 29 year old German bookkeeper; Emil Lae (aka E. Duffie or Duffe), a 30 year old German clerk; George Kuhn (aka G Week), a 22 year old Prussian Jewish barber; John Rainese (aka Gion or George Rionese), a 23 year old Italian; and John Folaney (aka Faline or Geacinto Lerchize), a 24 year old Italian. After the weapons were inspected to see that each man had fired his weapon, and the bodies inspected, the condemned were declared dead. The band changed its tone of music, starting with "The Girl I Left Behind Me," as company by company, the regiments of the Fifth Corps paraded in columns passed the bodies and back to their camps.
Punishment for minor crimes and petty offenses were administered under the authority of the regiment's commander to avoid the time and effort of a trial or court martial. There is some evidence that discipline in the 62d was strictly administered, but that "the Boys having nothing to do [would get] up to all sorts of Devilment." When the troops were in winter quarters, there was plenty of nothing to do, and there was a guard house. While in winter quarters or on campaigns, however, embarrassment seems to have been employed as chief means of punishment. In addition to an order, mentioned above under "Sobriety," calling for the tying up of soldiers for getting drunk, other punishments cited by Shenkel included soldiers being drummed out of camp or drummed around camp wearing a barrel, having their heads shaved, or "wearing an old pair of pants and overcoat after cutting the buttons off."
There were a few more serious nefarious affairs involving either officer or privates, and much stronger punishments.
Captain Thomas Kerr was dismissed on 5 April 1863 for overcharging the Adjutant General's office in Harrisburg for reimbursement for rental payment for a room used as a recruiting office in Rimersburg. In his defense, Kerr indicated he had negotiated a smaller amount than he realized he was authorized to pay, but although he submitted a report asking for the higher figure, it was only because he had to report to duty with his company that he was unable to straighten out the matter.
Private Peter Abbott was court-martialed for being absent without leave from 16 June to 16 July 1864. Before his General Court Martial, he testified that he had been given a pass to visit his father, Private Squire Abbott of the 155th Pennsylvania Volunteers, at Corps Hospital, but had missed a boat and was then unable me to get the necessary pass to join his company at Washington. He was found guilty on 2 August 1864 and sentenced to forfeit all pay and allowance from then on and to make good the time lost by serving time in the 91st PA. He apparently caught malaria during the campaign at Petersburg. As part of the sentence, when he finally mustered out, he was dishonorably discharged. The dishonorable discharge, however, seems to have been overturned, since his wife successfully applied for a widow's pension.
By far the most interesting case of crime or misdemeanor involved Private Peter Gilner from Company F. He was arrested, tried, and sentenced to be executed, but through accident and bureaucratic ineptitude, plus some congressional pressure, his life was spared. Through the valiant research efforts of Gary Kersey, details of the general court martial and pardon by Abraham Lincoln have come to light. The incident that got him in trouble occurred in September 1863 near Cedar Creek, near Culpeper, Va. This was the post-Gettysburg period when both Lee's and Meade's armies were resting and reorganizing. Except for some minor skirmishes, it was a time of idleness and a great opportunity for idle men to get into trouble. On the night in question, there was an altercation between eight drunken soldiers and two black women. Although eight men were involved, it was Gilner alone who got into trouble. A captain saw the event and rode up to investigate the trouble, and Gilner told him to mind his own business, or he would kill him. Obviously drunk, Gilner then picked up some rocks and threw one which narrowly missed. The captain went and got help. When he returned, only Gilner remained on the scene. Once again he threatened the officer and threw a stone, but this time he hit the captain.
Gilner was tried and found guilty and sentenced to death by firing squad. He was accused of going "beyond lines past a Mrs. Brown's house, then bloodied the mouth and nose of a black lady." The worse charge was striking the officer. That carried the death penalty. Awaiting execution, Gilner was confined with prisoners who had been found guilty of desertion. Several months later, upon General Meade's recommendation, the deserters' death sentences were commuted to confinement in the prison at Ft. Jefferson in the Dry Tortugas in the Florida Keys. At the same time, some 60 disorderly men from the 2d Maine (made famous by the story of Joshua L. Chamberlain's speech to them when they threatened mutiny instead of joining the 20th Maine just prior to the fighting on the second day at Gettysburg). Mistakenly, Gilner was shipped to Florida with these deserters and other miscreants. When it came time for his execution, Gilner could not be found. After the Meade learned that Gilner was no longer in the army, but in prison, steps were taken for him to be returned and executed. Before that happened, a member of Congress from Pittsburgh, James K. Moorhead, got involved and successfully pleaded first for a stay of execution and then for a pardon. Gilner's mother may have had an audience with Lincoln as well. Lincoln signed the pardon, and on 19 October 1864 the unexecuted portion of Private Peter Gilner's sentence was remitted and he was released from imprisonment. At some point Gilner then was transferred to the 155th P. V., and he was honorably discharged. Unfortunately, however, Gilner was denied a pension and unable to have the dishonorable discharge based on his conviction and original sentence of execution.
A New York Times article reported on 15 September 1878 that at a Company F reunion at Wildwood Grove, Castleshannon, a comrade, identified only as Patrick P., [Note, however, that there were no volunteers in the 62d whose first name was Patrick and last name began with the letter P.] after "partaking pretty freely of the refreshments," arose and confessed to having committed the crime for which Gilner had suffered. It was further reported that a committee of former officers would be formed to lay the facts before the War Department. It remains undetermined if the drunken confession had any merit or whether or not the committee actually met or made a report. Gilner tried for over 40 years to get a pension, but was always denied. As late as 1910 he filed for an invalid pension, while he was living in Ohio.
Mustering Out
After its last engagement on the Jerusalem Plank Road near Petersburg on 21 June 1864, the regiment was employed in picket and fatigue duty, until July 3, the date of the original companies term of service expiration. Not every soldier mustered out at this time. Many who had volunteered -- those who served as substitutes, or were drafted, and had not completed three years of service, or which to extend their service beyond three years remained in the army -- transferred to other Pennsylvania regiments in the Second Brigade. Companies L and M were transferred to the 91st Pennsylvania and would not be mustered out until August 15, 1864. Others served in the 155th and remained until their individual expiration date of service. The rest of the regiment, however, were ordered to the rear. The regiment headed to Pittsburgh and, arriving there on 13 July 1864, was mustered out.
The 91st Pennsylvania regiment remained south of the James River for its duration, so the veterans from the 62d were engaged around Petersburg for their remaining month of service. I have seen no record whether the West Pennsylvanians then marched home to Pittsburgh as a unit, but that is likely.
Soldiers who had not completed their three years of service who were members from companies other than L and M (and those soldiers who wished to re-enlist as Veteran Volunteers) were transferred to the 155th Pennsylvania Volunteers. Most members of the same company of the 62d joined the same company of the 155th, but several company's ranks were filled. The 155th also spent the duration of its service south of the James River. It fought together with the 91st in the same brigade nearly all of the engagements around Petersburg, including Weldon Railroad, Five Forks, and Hatcher's Run. At Appomattox Court House the 155th claimed the distinction of having the last enlisted man killed in the fighting in Virginia, on the morning of 9 April 1865, the same day General Robert E. Lee surrendered his Army. Although the Army of the Potomac would fight no more battles, the 155th Pennsylvania regiment would not be mustered out until June 2, 1865.
Even though the war was over in all military senses, some soldiers had still not completed their service when the 155th Pennsylvania mustered out. They were then transferred to the 191st Pennsylvania. This regiment was the last Pennsylvania regiment to be formed and was organized in the field primarily from veterans. It was mustered out 28 June 1865. At last even soldiers who had not put in their full service were allowed to muster out and return home.
Pensions
The federal government implemented a pension system for veterans and their widows soon after the war broke out. An 1862 statute spelled out the details of the benefits, linking them to injury or disability directly related to military service. In 1890, due to the lobbying power of veterans' organizations, significant changes were made to reward any disabled veteran who had served honorably. In 1906 old age was added as justification for a pension. The government was still providing pensions for veterans or at least their widows even by the time of the Second World War. As can be seen on this widow's pension (courtesy of Karen and Tessa Raybuck), issued to Annie Temple, wife of Lt. Samuel Temple of Company I, the "generous" monthly allowance might amount to twelve dollars a month.
What's in a name?
In print, I have seen the regiment designated, officially and unofficially, in many different ways and variations of abbreviations: Sixty-Second Pennsylvania Volunteers, 62d Pennsylvania Volunteers, 62nd Pennsylvania Volunteers; 62 Pennsylvania; Sixty-second Regiment, Infantry, Pennsylvania Volunteers; 62d Regiment; 62nd Regiment; Sixty-second Pennsylvania Infantry; 62d Pennsylvania Infantry; 62nd Pennsylvania Infantry; Sixty-second Regiment Infantry (Pa.); 62d Regiment Infantry (Pa.); 62d Pa.; 62d Penna; 62d Penn; 62nd Pa.; 62nd Penna; 62nd Penn; 62d P. V.; 62nd P. V.; 62 P. V.
Pennsylvania was often shortened in soldiers' lingo to Pennsylvane, thus the regiment may have been referred to as the 62nd Pennsylvane.
A news account appearing in the Boston Journal, reprinted in Stories of the War Told by Soldiers edited by Edward Everett Hale (1892) provides this insight on how the soldiers might have referred to their regiment: "How will we take Richmond?" says one of the Sixty-second the other day. "Why, don't you know? The Sixty-two-th will fire, and the Ninth will charge!"
---
Many sources have been used in compiling this page. So many that I have had to put them on a separate page.
This page authored and maintained by John R. Henderson (jhenderson @ icyousee . org), Lodi, NY.
Last modified: 24 January 2013, 150 years after the 62d Pennsylvania took part in Burnside's ill-fated "Mud March."
John R. Henderson's grandfather John G. Henderson's uncle John Henderson was a private in Company D.
The Sixty Second Pennsylvania Monument, pictured at the top of the page, was dedicated at Gettysburg on 11 September 1889. The image was printed in the book, Pennsylvania at Gettysburg, Ceremonies at the Dedication of the Monuments, published in 1904.
URL: http://www.icyousee.org/pa62d/pa62d.html